All goods quality is protected by a Medmetr inspection
Dry-air thermostat IFE 550 Memmert
Article number: 35636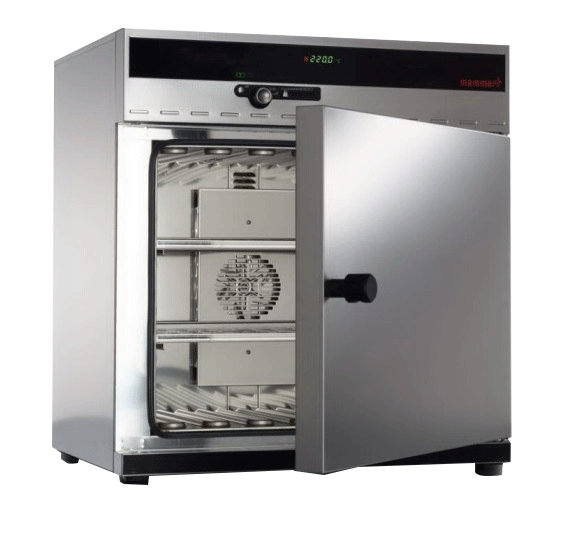 Available from stock
Buy
Description
Forced convection with adjustable fan speed; Operating temperature from 8 °C above room temperature to 80 °C;

Show more
More about the product
The IFE 550 Incubator (Incubator/Forced/Excellent) is focused on the predominance of natural convection, but the presence of a fan with adjustable speed can be very useful in various non-standard situations.
The IFE 550, like all Memmert equipment, was created with the expectation of conducting long-term experiments, so the model is also equipped with a timer for the days of the week and a reliable overheating protection system.
Features:
Forced convection with adjustable fan speed;
Operating temperature from 8 °C above room temperature to 80 °C;
Fuzzy logic controller with self-diagnosis function;
Digital timer up to 999 hours; cycle function; timer by day of the week;
4-segment profiles are programmed via the control panel;
RS232 interface for connection to a PC; built-in memory for storing readings;
3 temperature calibration options available;
Digital display;
The body and inner chamber are made of stainless steel;
Internal glass door;
2 Pt100 temperature sensors;
Triple overheat protection system;
Adjustable air flap.
Technical specifications:
| | |
| --- | --- |
| Chamber volume, l | 153 |
| Number of shelves included | 2 |
| Maximum number of shelves | 7 |
| Temperature range | From room temperature +8 °C to +80 °C |
| Camera dimensions, mm | 480 × 500 × 640 |
| Dimensions, mm | 630 × 920 × 650 |
| Incubator weight, kg | 82 |
| Incubator power, kW | 1.1 |
| Weight of the material to be loaded into the chamber, kg | 60 |