All goods quality is protected by a Medmetr inspection
Modern physiotherapy system with INTELECT Advanced Color color display
Article number: 19782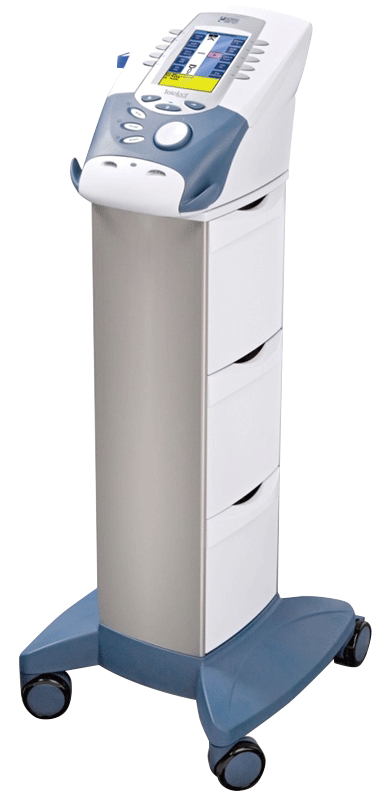 Available from stock
Buy
Guaranty 6 months (optional)
Description
Therapeutic system: electrotherapy, ultrasound, vacuum.

Show more
More about the product
INTELECT ® Advanced Coloris a modern physiotherapy system with a color display. It includes all necessary tools to maximize clinical effectiveness and improve the quality of patient care.
Advantages:
More than 25 forms of currents.
2 independent electrotherapeutic channels.
SEMG and sEMG+ electromyography.
High-resolution color display.
More than 200 ready-made therapeutic programs.
More than 100 user-defined protocols.
"Quick-Link" technology - quick access to 10 frequently used therapeutic programs. A clinical library containing colored anatomical and pathophysiological atlases.
Electronic Patient Record System and Patient Data Management System. Provide the required sequence of prescribed physiotherapy procedures (without reconfiguring of device).
Ergonomic ultrasonic heads 1 sq cm, 2 sq cm, 5 sq cm, 10 sq cm with contact control, light and sound indication, head heating before procedure Ultrasound therapy of 1-3 MHz in constant and pulsed modes.
Conducting combined therapy: electro- and ultrasound therapy
Technical specifications:
Weight: 3.2 kg.
Dimensions: 33 x 24 x 29 cm.
Safety: Class 1, type BF (electrotherapy), type B (ultrasound therapy).
Safety standard: IEC 60601-1, 60601-1-2, 60601-10, 60601-2-5 (combined unit).
The price includes:
Electromyography module (sEMG and sEMG+) (1 pc).
Switch-interrupter for a patient (1 pc).
Patient data card (5 pcs.).
Ultrasonic head 5 cm sq (1 pc.).
Elastic bandage-retainer (2 pcs.).
Carbon rubber electrode 6x8 cm (4 pcs).
Electrode gasket 6x8 cm (4 pcs).