All goods quality is protected by a Medmetr inspection
Nikon CFI TU Plan FLUOR Epi 100x Lens
Article number: 50261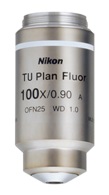 More about the product
100x light field lens for Nikon E400POL, E600POL microscopes.
Specifications: numerical aperture NA 0.90, working distance WD 1.00 mm, field of view field of view 25mm.

The lens is easy to use and provides high resolution. This lens is used in the methods of light field BF, differential interference-contrast microscopy of Nomarsky.