All goods quality is protected by a Medmetr inspection
Sold Out
Thermodyn (Nemectron Germany)
Article number: 22398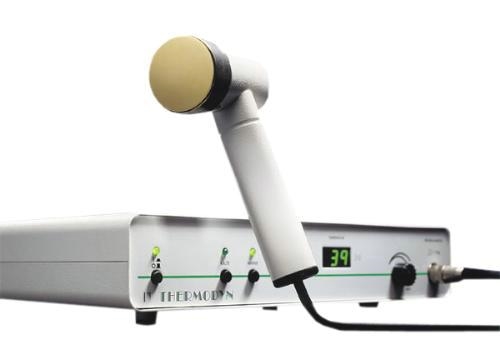 Send a request
Guaranty 6 months (optional)
More about the product
Thermodyn Nemectron Germany promotes deep penetration of cosmetics into skin, which significantly increases the effectiveness of the conducted procedures.
Heat exposure:
Otherwise called "thermophoresis". Improves skin nutrition, stimulates blood circulation and regenerative cell functions. Active cosmetic substances better penetrate the skin due to vasodilation.
Exposure to cold:
First, it causes vasoconstriction, and then restores blood circulation again. The skin comes alive, becomes softer. There is a long-lasting anti-inflammatory effect.
A variety of effective applications:
Short-term cold treatment of skin after the cleaning procedure will quickly eliminate redness and swelling
The procedure of sequential application of thermophoresis and brushing/peeling will allow the active cosmetic substances to penetrate deeper into skin, and then consolidate the resulting effect
Short-term treatment of skin with cold before applying makeup will allow you to apply decorative cosmetics as smoothly and beautifully as possible
Alternating application of heat and cold will improve blood circulation.
Thermodyn can serve as an auxiliary tool for treatment of cellulite. Penetration of such therapeutic substances into the skin, such as cellulite gel, will be improved by the thermophoresis procedure.